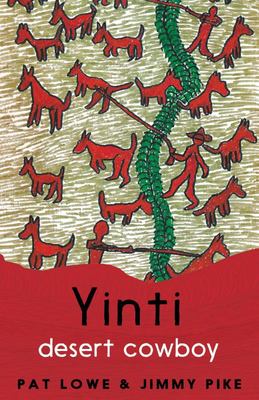 $12.99
AUD
Category: Children Fiction | Series: Yinti Ser.
 Age range 9 - 12 Gradually, Yinti and Wara grew accustomed to station life. They no longer ran and hid when they saw a motorcar coming along the road towards them. The third book in the Yinti series of three books. Desert Cowboy is the story of Yinti's return to the cattle station and of his life as a stockman. Over these years Yinti experiences joy, excitement, loss and tragedy, but never loses his sense of fun and inclination to mischief. All of the stories are based on actual people and events as told to Pat Lowe by Jimmy Pike and other members of his family. ...Show more
$18.99
AUD
Category: Children Fiction
Pearl and Vally Cole live in a bookshop. And not just any bookshop. In 1893, Cole's Book Arcade in Melbourne is the grandest bookshop in the world, brimming with every curiosity imaginable. Each day brings fresh delights for the siblings: voice-changing sweets, talking parrots, a new story written just for them by their eccentric father. When Pearl and Vally learn that Pa has risked the Arcade - and himself - in a shocking deal with the mysterious Obscurosmith, the siblings hatch a plan. Soon they are swept into a dangerous game with impossibly high stakes: defeat seven challenges by the stroke of midnight and both the Arcade and their father will be restored. But if they fail Pearl and Vally won't just lose Pa - they'll forget that he and the Arcade ever existed. ...Show more
$17.99
AUD
Category: Children Fiction
A tiny dog, the runt of the litter, is born on a remote cattle station. She shouldn?t have survived, but when Elsie finds, names and loves her, the pup becomes a cherished companion. Life is perfect ... until War arrives. With Japanese air raids moving closer, Elsie?s family leaves the Pilbara for the s outh and safety. But the small dog has to stay behind. After travelling far from home with drovers and a flying doctor, she becomes a hospital dog and experiences the impact of war on north-western Australia. She witnesses wonderful and terrible things and gives courage to many different humans. But through all her adventures and many names, the little dog remembers Elsie, who girl who loved her best of all. Will she ever find her again? ...Show more
$15.99
AUD
Category: Children Fiction | Series: Weirdo | Reading Level: 7.5 Kids First Reader
What's a sheep's best wrestling move? The LAMB CHOP! Everyone is going nuts for WRESTLE-CRAZIAthe coolest wrestling show around! Can Weir come up with an awesome idea to WIN tickets for his whole family to see the show? It wont be easy... but it will be FUNNY!
$16.99
AUD
Category: Children Fiction | Series: The Strangeworlds Travel Agency
Pack your suitcase for a magical adventure! At the Strangeworlds Travel Agency, each suitcase transports you to a different world. All you have to do is step inside... Flick is now a badge-wearing member of The Strangeworlds Travel Agency so when an urgent summons arrives at Strangeworlds from Pirate Q ueen Nyfe, she and Strangeworlds Society guardian Jonathan immediately pack their bags for an adventure to Queen Nyfe's world: The Break, a place of magic and piracy. Nyfe's world is falling apart. The Break is used to having ships vanish without a trace, but there has been a sudden increase that can't be explained by giant squid or mer-people. The edge of their flat world is coming ever closer to them and they need to escape before it collapses entirely.But how do you sail a ship through a suitcase? How do you fit a mer-queen the size of a whale into something small enough to carry in your hand? Will Flick and Jonathan be able to find a way to transport the inhabitants of the Break to another world before theirs disappears forever? A magical adventure for 9+ readers that will take you to whole new worlds, perfect for fans of The Train to Impossible Places and The Polar Bear Explorers' Club.   ...Show more
$12.99
AUD
Category: Children Fiction | Series: Aussie Kids Ser.
Hi! I'm Sam I have a new throw net. My cuz, Peter and I can't wait to try it out. We want to catch a BIG barra!
$12.99
AUD
Category: Children Fiction | Series: Tiny Timmy Ser.
Timmy and his team are always looking to improve their game . . . And now they have an amazing opportunity - by going into camp with the Women's National Team! They'll get to train like they do, live like they do, and learn what it's like to be a professional player! Will Timmy be transformed at trainin g camp? Find out in Book 12 of the best-selling series from Socceroos legend, Tim Cahill! ...Show more
$16.99
AUD
Category: Children Fiction | Series: Hilda
Based on the hit Netflix series, join Hilda and Twig for more hilarious adventures in the illustrated fiction series. Join your favourite blue-haired heroine Hilda to find her cooking up adventure with the Sparrow Scouts and battling mechanical bell-ringers. But some naughty mischief-makers are determi ned to steal Hilda's money, soup, and maybe even her mum. When a hop to the past gets time all mixed and muddled, can Hilda help the city of Trolberg escape the greedy Time Worm? There is no shortage of unexpected twists, turns and new friends in this latest instalment of the Hilda fiction series. ...Show more
$16.99
AUD
Category: Children Fiction | Series: A Widdershins Adventure
From the bestselling author of A PINCH OF MAGIC and A SPRINKLE OF SORCERY comes a thrilling story of sisters, spells and witches.   Everyone knows that magic and trouble go hand in hand... A dangerous spell cast over an unsuspecting village.  An enchanted painting locked in a hidden room. A desperate race against time to break the spell before it's too late... It should have been a fresh start for the Widdershins. Finally free from the misty gloom of Crowstone and beginning a new life. But all is not as it seems in their postcard-pretty village. Their neighbours are acting strangely, and why do they flinch at the mere mention of magic? The Widdershins sisters have their own secret: a set of enchanted nesting dolls with the power to render their user invisible. The sisters must use their wits - and their magic - if they're to break the dark hold over the village, and save one of their own . . . but have they met their match this time?   Praise for A Sprinkle of Sorcery: 'Harrison's masterful series continues with great heart and excitement' Waterstones 'Harrison's fully imagined world has conviction, and the perils of the story are lightened by the warmth and spirit of its characters' The Sunday Times Praise for A Pinch of Magic: 'BRILLIANT' Emma Carroll, author of Letters From The Lighthouse 'Simply phenomenal!' Sophie Anderson, author of The House With Chicken Legs 'I was utterly captivated by the Widdershins sisters' Lisa Thompson, author of The Goldfish Boy 'Gutsy and rude, full of warts-and-all family love, Harrison's latest has the wry enchantment of an E Nesbit classic' Guardian 'A fabulous magical adventure' Sunday Express 'Fantasy and adventure appear on every page of this spellbinding tale'  Daily Mail     ...Show more
$16.99
AUD
Category: Children Fiction | Series: Wings of Fire
Snowfall didn't expect to be queen of the IceWings at such a young age, but now that she is, she's going to be the best queen ever. All she has to do is keep her tribe within IceWing territory, where its safewhile keeping every other tribe out, where they belong. It's a perfect and simple plan, backed u p by all the IceWing magic Snowfall can find. That is, until a storm of unidentified dragons arrives on her shore, looking for asylum. The foreigners are completely strange and, Snowfall is certain, utterly untrustworthy. But as she escorts the miserable new tribes out of her kingdom, Snowfall is forced to reconsider her plan. Maybe she can only keep her tribe safe... if she's willing to risk everything. ...Show more
$15.99
AUD
Category: Children Fiction | Series: Wolf Girl
A wildly exciting adventure series from bestselling author Anh Do. Gwen has been searching for her family for a long time. Just when she feels she is close, the soldiers following her start to close in. Then one of her dogs is injured, and the gang must slow down...Who can Gwen trust? And how will she k eep her pack safe from dangerous enemies? Does this spell disaster for the one and only Wolf Girl? ...Show more
$14.99
AUD
Category: Children Fiction | Reading Level: Children's - Grade 4-6, Age 9-11
The new jaw-achingly funny novel from David Walliams, the number one bestselling author! Make your appointment if you dare... Darkness had come to the town. Strange things were happening in the dead of night. Children would put a tooth under their pillow for the tooth fairy, but in the morning they woul d wake up to find... a dead slug; a live spider; hundreds of earwigs creeping and crawling beneath their pillow.Evil was at work. But who or what was behind it...? ...Show more