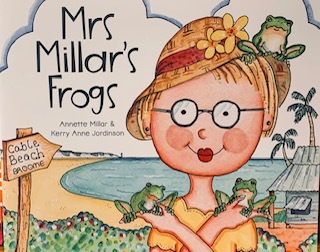 Mrs Millar's Frogs
by Annette Millar; Kerry Anne Jordinson (Illustrator)
$16.99
AUD
Category: Children
"Frogs! I love frogs, frogs in Broome. They live in my house in every room."So begins the story of Mrs Millar and her much loved frogs. Follow the adventures of these little characters as they hop and hide in Mrs Millar's house. This new edition of an old favorite, which has never lost its appeal for y oung readers ...Show more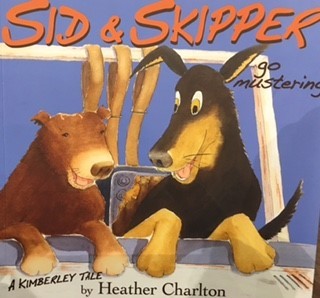 $20.99
AUD
Category: Children
Meet Sid and Skipper, two Kimberley Kelpies. Sid has always been Top Dog on the cattle station, and he doesn't welcome silly young Skipper. But when Sid finds himself in trouble, who will be there to help him? A story of pride, a fall and two lovable characters. This is the first book written and ill ustrated by Heather Charlton.  Heather spent some years on a cattle station in the Kimberley, where she met the real Sid and Skipper.  Her illustrations are clever and amusing. Age level: suitable for readers in lower primary school. ...Show more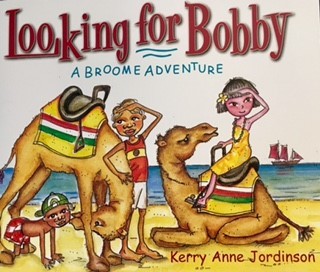 $19.99
AUD
Category: Children
Where is Bobby? Broome boys Lucas and Baz, with their friend Tallulah, search for him around their town. A fun story for young readers with a surprise at the end. The delightful illustrations show us the well known features of the town in a new way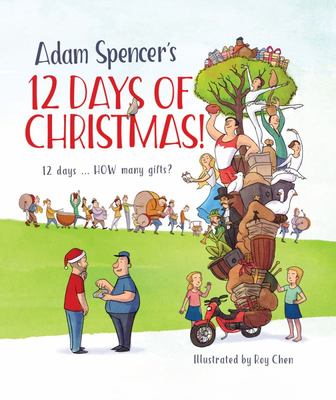 $24.99
AUD
Category: Picture Books
Adam Spencer's 12 Days of Christmas is a funny -- and distinctly Australian -- take on the classic Christmas carol. Featuring beautiful illustrations, it's the perfect way to celebrate the festive season, while learning to count at the same time! So join in the fun with everyone's favourite numbers guy as we count down the days till Christmas. ...Show more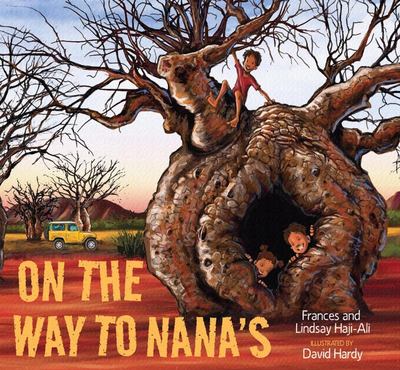 On the Way to Nana's
by Frances Haji-Ali; Lindsay Haji-Ali; David Hardy (Illustrator)
$17.99
AUD
Category: Children
Age range 4 to 8 Frances and Lindsay Haji-Ali take us counting backwards from FIFTEEN to ONE on this spectactular journey in the far north of WA. When Frances and Lindsay lived with their family in Broome, they often set out to visit Nana in the tiny outback town of Wyndham over 1,000km north. These roa d trips took them across the magnificent Kimberley landscape and inspired this counting story. On the way to Nana's is a standout counting book. Counting backwards from 'fifteen to one' is a challenging concept for children to grasp. Each double-page spread includes numbers and words and will enthrall readers, parents and educators as they find and count the objects on each page. From bulbous boabs and wild brumbies to weary travellers, flying magpie geese and flowing waterfalls, David Hardy's striking illustrations capture the awe and excitement of this special family adventure. ...Show more
$12.99
AUD
Category: Picture Books
Age range 3 to 8 First published in 2015, this title now has a new cover and the format has been increased to 200 x 230 mm. Young children will be captivated by the bright colours and Australian animals which bring to life this entertaining tale of a young emu who has lost his mob and sets out to find i t. He asks the animals he encounters along the way if they `have seen his mob?' The kangaroo, lizard, owl, cassowary and others provide directions in their own, often confusing, way, until finally the youngster catches up with his mob. In iconic Australian style, My Lost Mob combines highly textured and bold illustrations of Australian animals and varied landscapes in a simple, classical format that will appeal to younger readers and all that are young at heart. A gem of a book that will charm its way onto bookshelves. ...Show more
$17.99
AUD
Category: Picture Books | Series: Aussie Night Before Christmas
Special 10th anniversary edition of an Aussie holiday favourite. Twas the night before Christmas; there wasnt a sound. Not a possum was stirring; no-one was around. Wed left on the table some tucker and beer, Hoping that Santa Claus soon would be here. Christmas in the middle of an Australian summer mea ns Santa has to find new ways to deliver his presents. The obvious solutions are to don a sunhat, shorts and a pair of thongs, not to mention ditching the sleigh and reindeer in favour of some roos and a ute. The gentle illustrations are packed with familiar icons cleverly woven into the visual narrative to recreate the warm, comforting, family atmosphere that Christmas is all about. ...Show more
$24.99
AUD
Category: Picture Books
Goblins and genies, mice and magic, fairies and fun: spellbinding stories of miniature worlds at Christmas by established and emerging Australian writers for children, illustrated in full colour by talented new illustrators from Australia and overseas.Featuring writers Juliet Marillier, Dianne Bates, Ge orge Ivanoff, Stephen Hart, Natalie Jane Prior, Ian Irvine, Pamela Freeman, Oliver Phommavanh, Stephanie Smee, Rebecca Fung, Michael Grey and Kathy Creamer.Illustrators: Amy Golbach, Sally Heinrich, Jennifer Polan, Siobhan McVey, Penelope Pratley, Sandra Severgnini, Kathy Creamer, Amy Bogard and Simone Hale. ...Show more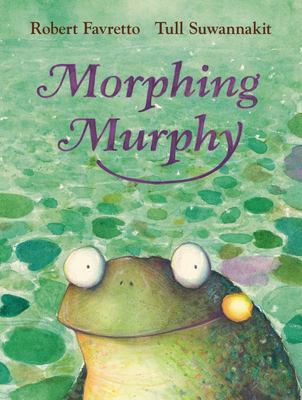 Morphing Murphy
by Robert Favretto; Tull Suwannakit (Illustrator)
$16.99
AUD
Category: Picture Books
Ages 5 to 9 years. Murphy likes his life just the way it is -- swimming in his weedy pond, slurping up algae and rotting water plants. But then things begin to change... and he's not the only one caught by surprise!
$21.99
AUD
Category: Picture Books
Part poem, part lullaby, this gentle story celebrates a baby's wonder at our beautiful world. From Australia's favourite picture-book creator Alison Lester comes a timeless book to share and to treasure. Now in a gorgeous board book edition.
$17.99
AUD
Category: Children
Monster Party is an explosion of fun and pure joy. Children will love the hilarious, naughty desert monsters who come out of the ground to have a party on Dora Lake. Eating chips and monster cake, they go `galumphing' all over the place with a drum and a bass! Of all shapes and sizes, these monsters cre ate havoc for the children at Rawa Community School who live on the edge of the Great Sandy Desert - `dancing and stomping', `crashing and crunching', `prowling and growling', `happy and smiling'! Jeepers creepers! The monster cut-out illustrations created by the students are delightful. Monster Party will capture the hearts of the very young and the young at heart. ...Show more
$16.99
AUD
Category: Picture Books
When a woeful mouse is swallowed up by a wolf, he quickly learns he is not alone: a duck has already set up digs, and, boy, has that duck got it figured out! Turns out it's pretty nice inside the belly of the beast - there's delicious food, elegant table settings and, best of all, dancing. And there's s omething more: no more fear of being eaten by a wolf! Life's not so bad, considering the alternatives. That is, until a hunter shows up... With a nod to traditional fables and a wink to the reader, the award-winning Mac Barnett and Jon Klassen, of Sam and Dave Dig a Hole, Extra Yarn and Triangle, offer a tale of cooperation and creative cuisine that is sure to go down easy. ...Show more