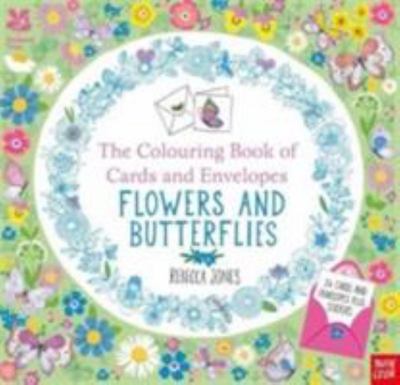 $19.99
AUD
Category: Art and Design | Series: Colouring Cards and Envelopes
Create your own cards and envelopes with this innovative and original colouring book with 24 unique card and envelope designs plus a sheet of colourful stickers.
$37.99
AUD
Category: Art
For the millions of people who have uncovered their creative selves through the Artist's Way program-a workbook and companion to the international bestseller.   Alife-changing twelve-week program, The Artist's Way has touched the lives of millions of people around the world. Now, for the first time, f ans will have this elegantly designed and user-friendly volume for use in tandem with the book. The Artist's Way Workbook includes:   - more than 110 Artist's Way tasks; - more than 50 Artist's Way check-ins; - a fascinating introduction to the workbook in which Cameron shares new insights into the creative process that she has culled in the decade since The Artist's Way was originally published; - new and original writings on Morning Page Journaling and the Artist's Date-two of the most vital tools set forth by Cameron in The Artist's Way.   The Artist's Way Workbook is an indispensable book for anyone following the spiritual path to higher creativity laid out in The Artist's Way. ...Show more
$37.99
AUD
Category: Art and Design | Series: I Heart Drawing Ser.
Start with a heart shape . . . and end with a beautiful finished piece of art You'll love Jane Davenport's fabulous, fun, and amazingly easy technique for drawing figures. For aspiring artists, drawing people can be intimidating--but it doesn't have to be. Over years working as a fashion illustrator, Jane Davenport devised her own method of creating in-proportion figures. Her clever core technique involves using equal-size hearts to build the body's structure. And Jane's results have been astounding: her students go from "I can't draw a stick figure" to producing gorgeous, well-proportioned illustrations. After laying out the basics, her imaginative guide walks you through working with different mediums; drawing the head, face, clothing, hair, and features; and constructing figures inspired by fashion, fantasy, life drawing, and more. ...Show more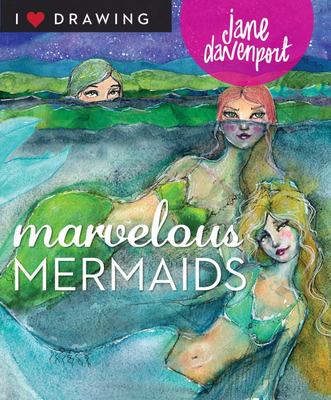 $37.99
AUD
Category: Art and Design | Series: I Heart Drawing Ser.
Internationally known illustrator and bestselling author Jane Davenport takes artists on a journey through the mysterious world of mermaids, explaining everything from accurately drawing the figure to creating convincing habitats with mixed-media techniques. Make a magical mermaid splash Following her bestselling I Heart] Drawing: Fabulous Figures, Jane Davenport dives deep into the ocean to explore the wondrous world of mermaids. She shows how to draw and paint these sensuous sirens, with their perfectly proportioned figures, shimmering scales, and all. Jane's evocative instruction touches on every aspect of this fantasy realm: Oceans of Color: Paint beautiful backgrounds in which your mermaids can dwell.Go with the Flow: Convincingly draw these sinuous creatures in undulating poses.Mermaid Hair Don't Care: Paint the flowing tresses that are every mermaid's trademark.Keep Urchin Up: Depict mesmerizing facial features. Jane also provides unique suggestions for making an "upscale" mermaid art journal, gives a month's worth of creative prompts for Mer-May (or any day), and offers ideas for stunning collages. ...Show more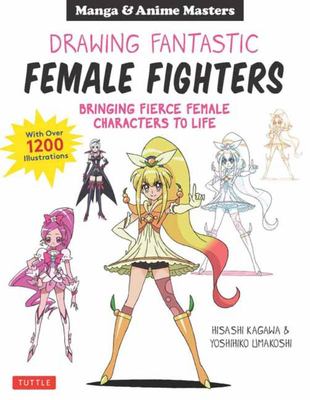 $32.99
AUD
Category: Art and Design
Two superstars of anime and manga open their studio doors and spill their secrets in this private master class. Join Hisashi Kagawa, an animation director for Sailor Moon, and Yoshihiko Umakoshi, a character developer for My Hero Academia, as they show you how to bring your battle heroines boldly to lif e. Helpful sidebars and tips appear in dialogue bubbles throughout this book, as the artists guide aspiring illustrators from initial idea to finished artworks, pointing out common missteps and pitfalls that can easily frustrate beginning artists along the way. The essential techniques and design elements needed to create engaging female-led battle scenes are first reviewed in detail. Then each author walks the reader through their entire creative process of developing an original story from beginning to end. Along the way the authors give you hundreds of helpful tips on how to create compelling characters and render realistic expressions and poses, showing you how practiced professionals work. Starting from a storyboard sequence of simple sketches you'll progress to a polished finished drawing. By learning from two artists with different styles at the same time, readers get twice the advice and emerge doubly prepared to create scenes, stories and battle heroines of their own. ...Show more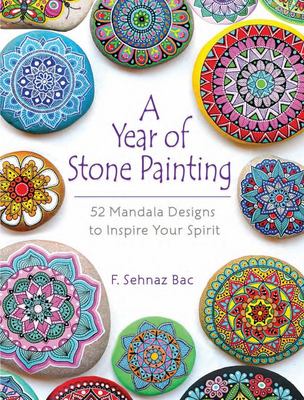 $36.99
AUD
Category: Art
You can craft a new mandala every week for one year with this full-colour guide by the author of the bestselling The Art of Stone Painting. F. Sehnaz Bac, an artist and seasoned archaeologist, presents step-by-step instructions for fifty-two projects. Her easy-to-follow guide will show you how to transf orm ordinary stones into inspirational works of art. The mandala - derived from the Sanskrit word for "circle" - represents the universe, and the symbol has long been instrumental to sacred rituals and meditative practices. This treasury of radiant designs presents patterns for stone paintings, each of which is accompanied by a one-word mantra - relax, tranquil, spirit, dream, believe, and other uplifting terms. A few projects are meant to be painted on sea glass, leaves, or shells, but most are based on Bac's popular interpretations of classic stone-based styles. Colourful photographs accompany simple instructions for a year of crafting inspiration. AUTHOR: Istanbul native F. Sehnaz Bac studied archaeology at Ege University and has a master's degree in restoration and conservation from the institution's Faculty of Architecture. For two decades, she has worked at many Turkish excavation sites as an archaeologist and draftsman. Her detailed technical drawings have informed her imaginative designs, which are inspired by nature and rendered in watercolour, acrylic, ink, and marker pens. ...Show more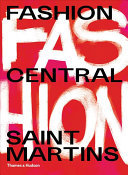 $59.99
AUD
Category: Fashion
Celebrating the most famous and influential fashion school in the world, Fashion Central Saint Martins is filled with never-before-seen student work by and exclusive interviews with talented graduates who have gone on to become the biggest names in fashion. Discover a treasure trove of early sketches, f irst student collections and fashion shoots by designers such as Hussein Chalayan, John Galliano, Stephen Jones, Dior's Kim Jones, Christopher Kane, Stella McCartney, Alexander McQueen, Phoebe Philo, Gareth Pugh, and Burberry's Riccardo Tisci, journalists like Vogue's Hamish Bowles and stylists such as LOVE magazine's Katie Grand. Learn all about their defining memories of the fashion school, favourite characters, inspirational teachers, and words of wisdom on everything a budding fashion designer, or aspiring fashion student, needs to know to forge their own path. Edited by the school's Programme Director of Fashion, Hywel Davies, and Cally Blackman, lecturer in Fashion History and Theory, Fashion Central St Martins follows the school's history from 1931 to today, with an initial chapter dedicated to its early years (1930s to 1960s), followed by chapters dedicated to each subsequent decade. Packed with profiles of key alumni alongside photography of their student work, and peppered with essays by guest-writers, this book will delight all fans and students of fashion. ...Show more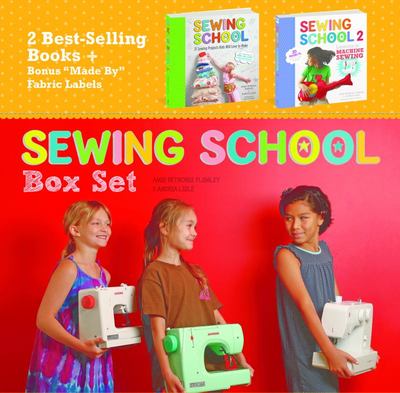 Sewing School
by Amie Petronis Plumley; Andria Lisle
$56.99
AUD
Category: Gift Ideas | Series: Sewing School Ser.
The best-selling book duo -- Sewing School and Sewing School 2 -- are featured in this special gift set, along with bonus "Made By" fabric labels kids can iron on to their creations. With appealing step-by-step photography and instructions written specially for kids ages 6 and up, these books cover the full range of sewing skills, including hand stitching, operating a sewing machine, fabric selection, using patterns, and making pockets, casings, interfacing, and more. Forty-one creative projects range from stuffed animals and costumes to room decorations, scarves, and quilts. Every project is accompanied by ideas for personalized variations. ...Show more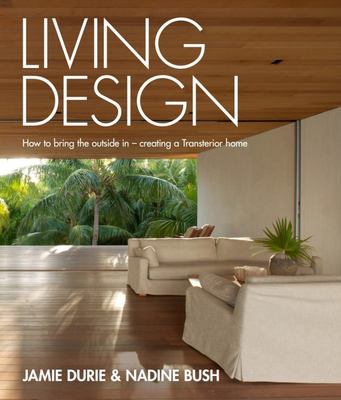 Living Design
by Jamie Durie; Nadine Bush
$59.99
AUD
Category: Arcitecture
Jamie Durie has long been passionate about creating outdoor rooms--luxurious living spaces where we can cook, eat, bathe, and sleep outdoors--but he is equally driven to create interiors that bring the outdoors inside. Over the last decade his work has evolved from landscape design into a very successfu l furniture and interior design practice. At the heart of his design philosophy is his belief that the closer we live to nature, the happier we feel. Living Design explores "Transterior" homes where the interior and exterior of a home merge. This book showcases exceptional houses from around the world, including Jamie's own, and demonstrates innovative ways to integrate nature into the home with plants, colors, textures, materials, and architecture. Learn how to create a home that is a living sanctuary and make the natural world part of your everyday life.   ...Show more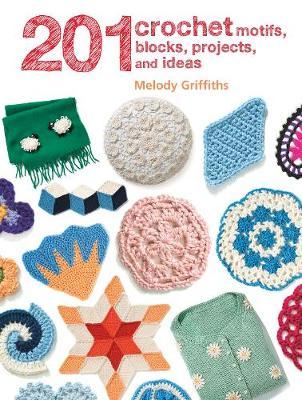 $29.99
AUD
Category: Art
201 Crochet Motifs contains over 150 original crochet blocks and motifs plus 51 gorgeous projects to inspire your creativity. Packed with ideas to get you going, this clever directory is split into three main chapters entitled Motifs, The Projects and The Techniques. The first chapter, Motifs, is divid ed into five sections that cover everything from the simplest crosses and spirals to geometric shapes, pictures, lacy patterns and bold, beautiful flowers. Use them to make up your own bags, throws, scarves and cushions, designed just as you choose, or follow one of Melody's foolproof patterns in The Projects. With over 50 projects to choose from there'll be something for everyone to make, whether that is a butterfly brooch, holly greetings cards, an openwork afghan, cat cushion, button baby blanket, tie belt, cherry border cardigan or something entirely different. Each motif is displayed as a colour photograph next to easy-to-follow instructions, with stitch diagrams for more complex motifs. Melody also advises on the type of yarn to use, the tension and the size of the motif, and gives tips on how to achieve the best result. There is also advice for designing your own makes, so you can treat the motifs as a jumping-off point. Finally, The Techniques offers further explanation and guidance so that no stitch is beyond your ability. With sketches and photos showing how the motif can be used, either on its own, with several together or partnered with other motifs, 201 Crochet Motifs will show you that the crocheting possibilities are endless. ...Show more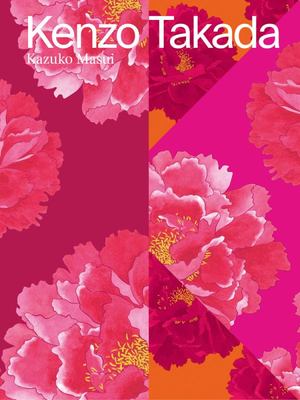 Kenzo Takada
by Kazuko Masui; Chihiro Masui
$110.00
AUD
Category: Art and Design
- An exclusive look-book of hand-colored sketches and personal photographs from the archives of Japanese fashion designer Kenzo Takada- Includes hundreds of sketches and personal photographs which offer an insider's perspective on his career, creative process, and vision- Features a stunning cover desig n by KenzoIn 1970, the young Japanese designer Kenzo Takada opened his first boutique, Jungle Jap, in Paris and revolutionized the fashion world. His colorful, ethnic, and nomadic- influenced collections, made with luxurious and vibrantly patterned textiles, tweaked the conventions of haute couture while maintaining the quality of traditional European clothing houses. He was influenced by Parisian fashion and Japanese kimonos, boldly mixing colors and prints, cuts and materials. His vibrant palette and pattern combinations were joyful and whimsical, and very different from the subtle tailoring of the traditional Paris couturier. In his inspired blend of the opulent and the exotic, he developed a signature style and found early success. With stunning photography, and over 300 sketches from Kenzo's private collection, this book traces more than forty years of his creative output. It includes photographs from his high-energy runway shows, in addition to personal photographs, and a behind-the-scene look at the creation of a spectacular wedding dress, opening a window on the creative process and capturing Kenzo's energy, vision, and presence. Superbly illustrated throughout with penciled and hand colored sketches, swatched drawings, and previously unpublished archival photographs, the authors explore Kenzo's career, tracing the evolution of his cult label in a look-book of visual exuberance. ...Show more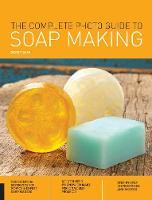 $29.99
AUD
Category: Art and Design | Series: Complete Photo Guide
Homemade soaps, scrubs, salves, lotions, and other bath and body products have been popping up all over the places from craft fairs to Etsy and it's no surprise why. Soap making is a fun and creative hobby that you can do right in the comfort of your own kitchen. Want to learn how? Look no further. The Complete Photo Guide to Soap Making is an A-Z primer on all things soap making. Written by About.com soap making expert David Fisher, this easy-to-use book will guide you through everything you need to know from necessary ingredients, tools, and safety requirements to soap making methods, including: melt and pour, hand milling, cold process, and hot process. You'll be a pro in no time! Each of the chapters focuses on a specific method, demonstrating basic process, decorative techniques, recipes, and related products such as scrubs, bath bombs, and liquid soaps. You'll also find a section on how to formulate original recipes, plus guidance on storage and ideas for packaging to impress your friends, family, and maybe even customers! So grab your creativity and some great ingredients and let's get started. ...Show more