$21.99
AUD
Category: Young Adult Fiction
Where is Maximum Ride? Ten years ago a girl with wings fought to save the world. But then she disappeared. Now she's just a fading legend, remembered only in stories. Hawk doesn't know her real name. She doesn't know who her family was, or where they went. The only thing she remembers is that she was to ld to wait on a specific street corner, at a specific time, until her parents came back for her. She stays under the radar to survive...until a destiny that's perilously close to Maximum Ride's forces her to take flight. Someone is coming for her. But it's not a rescue mission. It's an execution. ...Show more
$21.00
AUD
Category: Young Adult Fiction
From the author of P is for Pearl comes a heart-warming book about family, friendship and what home can mean. Stella may only be seventeen, but having read every self-help book she can find means she knows a thing or two about helping people. She sure wasn't expecting to be the one in need of help, thou gh. Thanks to her father's gambling addiction, Stella and her family now find themselves living at Fairyland Caravan Park. And hiding this truth from her friends is hard enough without dealing with another secret. Stella's birth mother has sent her a letter. As Stella deals with the chaos of her family, she must also confront the secrets and past of her 'other' family. But Stella is stronger than she realises. ...Show more
$16.99
AUD
Category: Young Adult Fiction | Series: Embassy Row
Centuries ago, the royal family of Adria was killed... or so everyone thought. Now Grace Blakely knows the truth: there was one survivor, and that survivor's blood runs through her veins. This simple fact could cause a revolution-which is why some people will stop at nothing to keep it from coming to li ght. There is only one way for Grace to save herself, save her family, and save the boy she loves. She must outmanoeuvre her foes, cut through the web of lies that has surrounded her for years, and go back to the source of all her troubles, despite the risk. If she wins, she will inherit a throne. And if she loses, she will inherit the fate of all the dead princesses who came before her. ...Show more
$19.99
AUD
Category: Young Adult Fiction
Perfect for readers who love Liar and Spy, Counting by 7s, and Bridge to Terabithia, a heartwarming and transformative novel about family, loss, and never giving up from beloved author Karen Foxlee. Lenny Spink is the sister of a giant. Her little brother, Davey, suffers from a rare form of gigantism a nd is taunted by other kids and turned away from school because of his size. To escape their cruel reality, Lenny and Davey obsess over the entries in their monthly installment of Burrell's Build-It-at-Home Encyclopedia set. Lenny vows to become a beetle expert, while Davey decides he will run away to Canada and build a log cabin. But as Davey's disease progresses, the siblings' richly imagined world becomes harder to cling to in this deeply moving and original novel about grief, family, and wonder. ...Show more
$17.99
AUD
Category: Young Adult Fiction | Series: This Mortal Coil
"Redefines 'unputdownable.'" --Amie Kaufman, New York Times bestselling author of Iluminae "I was thrilled. I was shocked." --NPR "Stunning twists and turns." --BCCB (starred review) In this gripping debut novel, seventeen-year-old Cat must use her gene-hacking skills to decode her late father's messa ge concealing a vaccine to a horrifying plague. Catarina Agatta is a hacker. She can cripple mainframes and crash through firewalls, but that's not what makes her special. In Cat's world, people are implanted with technology to recode their DNA, allowing them to change their bodies in any way they want. And Cat happens to be a gene-hacking genius. That's no surprise, since Cat's father is Dr. Lachlan Agatta, a legendary geneticist who may be the last hope for defeating a plague that has brought humanity to the brink of extinction. But during the outbreak, Lachlan was kidnapped by a shadowy organization called Cartaxus, leaving Cat to survive the last two years on her own. When a Cartaxus soldier, Cole, arrives with news that her father has been killed, Cat's instincts tell her it's just another Cartaxus lie. But Cole also brings a message: before Lachlan died, he managed to create a vaccine, and Cole needs Cat's help to release it and save the human race. Now Cat must decide who she can trust: The soldier with secrets of his own? The father who made her promise to hide from Cartaxus at all costs? In a world where nature itself can be rewritten, how much can she even trust herself? ...Show more
$18.99
AUD
Category: Young Adult Fiction
In this beautiful love story from the author of "Graffiti Moon, " two teens find their way back to each other in a bookstore full of secrets and crushes, grief and hope--and letters hidden between the pages./16.
Wraith
by Shane Smithers; Alex Smithers
$14.99
AUD
Category: Teenage
James can fly, though his landings need some work. However, that's the least of his problems when he crash lands into a city in the clouds. Soon James is drawn into a race against time to find the SAFFIRE, a new technology designed to save the city from the effects of climate change. Finding his way hom e seems impossible but with the help of Aureole, a young girl determined to save her city, James just might be able to fly away and help save the city in the process. ...Show more
$19.99
AUD
Category: Young Adult Fiction | Series: Gone
In the blink of an eye, everyone disappears. Gone. Except for the young. There are teens, but not one single adult. Just as suddenly, there are no phones, no internet, no television. No way to get help. And no way to figure out what's happened. Hunger threatens. Bullies rule. A sinister creature lurks. Animals are mutating. And the teens themselves are changing, developing new talents-unimaginable, dangerous, deadly powers-that grow stronger by the day. It's a terrifying new world. Sides are being chosen, a fight is shaping up. Townies against rich kids. Bullies against the weak. Powerful against powerless. And time is running out: on your birthday, you disappear just like everyone else . . . Michael Grant's Gone has been praised for its compelling storytelling, multidimensional characters, and multiple points of view. ...Show more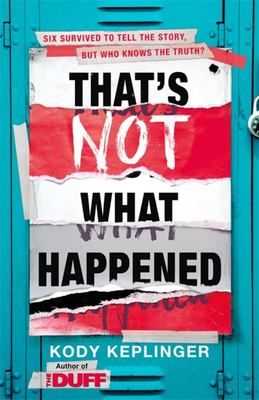 $17.99
AUD
Category: Young Adult Fiction | Reading Level: 15+
It's been three years since the Virgil County High School Massacre. Three years since my best friend, Sarah, was killed in a bathroom stall during the mass shooting. Everyone knows Sarah's story--that she died proclaiming her faith. But it's not true. I know because I was with her when she died. I did n't say anything then, and people got hurt because of it. Now Sarah's parents are publishing a book about her, so this might be my last chance to set the record straight...but I'm not the only survivor with a story to tell about what did--and didn't--happen that day. Except Sarah's martyrdom is important to a lot of people, people who don't take kindly to what I'm trying to do. And the more I learn, the less certain I am about what's right. I don't know what will be worse: the guilt of staying silent or the consequences of speaking up.... ...Show more
$19.99
AUD
Category: Young Adult Fiction
Two siblings. Two brilliant talents. But only one Mozart. Born with a gift for music, Nannerl Mozart has just one wish--to be remembered for ever. But even as she delights audiences with her masterful playing, she has little hope she'll ever become the acclaimed composer she longs to be. She is a young woman in 18th century Europe, and that means composing is forbidden to her. She will perform only until she reaches a marriageable age--her tyrannical father has made that much clear. And as Nannerl's hope grows dimmer with each passing year, the talents of her beloved younger brother, Wolfgang, only seem to shine brighter. His brilliance begins to eclipse her own, until one day a mysterious stranger from a magical land appears with an irresistible offer. He has the power to make her wish come true--but his help may cost her everything. In her first work of historical fiction, #1 New York Times bestselling author Marie Lu spins a lush, lyrical story of music, magic, and the unbreakable bond between a brother and sister. ...Show more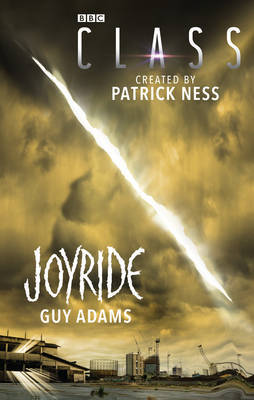 $19.99
AUD
Category: Young Adult Fiction
One of three thrilling tie-in novels for Class, the new BBC Three series created and written by bestselling author Patrick Ness.